Edit: Here's my Autumn 2017 playlist. Enjoy?
What kind of a mood am I in? I just spent half an hour playing one note on one of my old synthesizers. Just slowly, slooowly messing with the filter settings and letting the LFO sweep as gently as it could. Cross-modulation, ring modulation, de-tuning the oscillators..all the good stuff. The old synths have all kinds of knobs and sliders you can use to evolve the tone in a very immediate, tactile way, so you can get a huge variety of sound, even playing just one note. It was an E.
Nicole posted something on Facebook requesting
Using gifs:. illustrate the meaningless void of existence. Explain death to a child. Caress the icy hand of nothing. Taste rot. Become agony.
For some reason, I had a stack of 'em queued up. Here are a couple I'm particularly well-pleased with: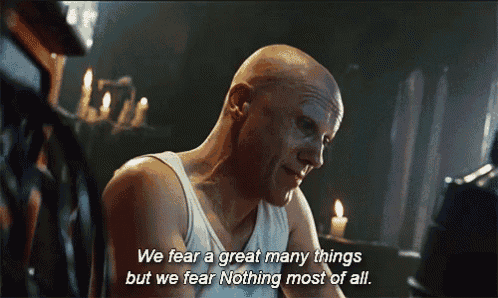 OK, so the second one isn't a .gif, but I stand by it nonetheless.
I've be diving into the last couple of Talk Talk albums lately (and, curiously enough, so has my brother-in-law). If you're anything like me, you remember Talk Talk largely as a new wave band that had a string of increasingly interesting hits ("Talk Talk," "It's My LIfe," and "Life's What You Make It") and then kind of dropped off the radar.
The story of their final album, Laughing Stock is interesting and way too long for me to recount, but if you're up for it, you can read it at The Quietus. It's a record I'd never listened to or thought much about until I saw it included on Fact magazine's list of the top 30 post-rock albums. I was a little surprised to see a Talk Talk record at #4 on the list in the same company as Mogwai, Sigur Ros, and Godspeed You! Black Emperor. So, I had to check it out.
That's not the Talk Talk I remembered. As usual, late to the party, but that's ok. It's not a race.
I just finished reading Kazuo Ishiguro's Never Let Me Go. It's a devastating book in that there is tremendous violence in it, but it's all very calm on it's surface. If I had to choose a single bucket for it, I'd probably go with science-fiction, of all things. It hits big themes, but the one I'm obviously fixating on right is the question of creating meaning or at least its appearance in a world that denies you any hope of achieving your creation.
It's a pretty heavy book. It's easy to read, a difficult one to put down, and I strongly recommend it.
All of this probably comes across as emo or depressing or something like that, but that's not it at all. It's the feeling that comes from looking at things through a microscope instead of a wide-angle lens. We have a single, small light on in the corner of the bedroom right now, plus several candles and the faint hint of spent pinon pine incense. Nicole's asleep next to me and it's all very quiet and calm and good.
Tonight's going to be the first properly chilly night of the year and I'm looking forward to it. I'm going to turn out the light, blow out the candles, and burrow under a big, fuzzy blanket, kiss my wife on the cheek, crack the window just a little, and enjoy the cool, dry night air.
Goodnight,
-RK